Summer is almost here! Time for horse camp fun…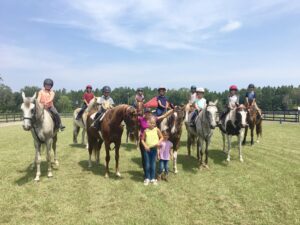 Golden Isles Riding Academy offers several camps during the year based on the local school calendar and summer break. Each camper is assigned his or her "own" horse for the day and are taught horse safety, how to groom, lead, saddle and bridle their horse in addition to riding. Campers enjoy two riding sessions each day along with other horse skills such as braiding, clipping, applying leg bandages and other care items. The central focus of the camp is, of course, riding and improving their horsemanship skills, but fun is always at the top of the agenda which includes horse related games, crafts and other activities. Campers have the full attention of the staff as regular lessons are canceled during camp hours. Camp is a great way to introduce a new rider to the responsibility of being a horse person and to the exciting world of horses.
What to Wear: Campers must wear long pants and hard sole shoes. Tennis shoes or English paddock boots are acceptable. Campers must wear a helmet while riding – helmets are provided. Campers can bring shorts to change into after riding. NO flip-flops, sandals, or crocs. Sunscreen and bug spray are a plus!
What to Bring: For our week long camp, bring your smile and plenty of energy for a fun-filled day. Bring a sack lunch along with snacks and water/drinks.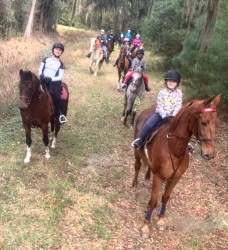 Camp spots are limited, aged 6 years and up, and is on a first come basis. Camp hours are from 9:00 a.m. to 4:00 p.m. Early drop off and late pick up hours are available (8:00 a.m. and 5:00 p.m. respectively) for an additional $10 each. Call us today to reserve your spot for a fun time – camps fill up fast.
Parents/Guardians – please complete the Camp Enrollment/Release forms. Bring them with your camper on the first day of camp, email them in prior to camp start date!
Camp Dates & Rates:
2023 Day Camp Dates:
March 13
2023 Week Camp Dates:
April 10 – 14  /   June 5 – 9  /  June 26 – 30  /  July 10 – 14  /  July 24 – 28  /  July 31 – August 1 
Week Long Camps: $425.00 per camper / Day Camps: $95.00 per camper
Payment: A NON-REFUNDABLE deposit of $100.00 is required for weekly camps and NON-REFUNDABLE $50.00 for day camps. In the event of a cancellation, the deposit will be converted to a barn credit provided that a ONE WEEK notice for week long camps and 48 HOUR notice for day camps have been given. Balance is due prior to the first day of camp.
Discounts Offered: 10% off multiple camps. Discounts do not apply to day camps.
Call or Email Owner/Trainer Kelli Jordan – (912) 506-3325 or kellijordan@goldenislesridingacademy.com.